Lucrative traps of H1B Visa sponsors/employers
While working in India as an IT professional, you always dream about working in the USA or abroad for some challenging assignments. or you just want to shine your resume with overseas work experience, or you want to earn lots of money. But do you know that there are lucrative traps specifically designed by your H1B Visa sponsors also known as .. American employer ( most of them are Desi Employer with some Indian/Asian origin/connection) especially waiting for you!!
And these traps are as follows: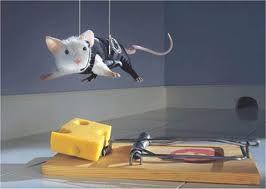 Chessy Traps !
Trap 1 : My H1B employer tells me that he spent around $4000 for all my immigration cost and flight tickets.
Answer to Trap 1 : Don't feel obligated by any means. Your H1B employer needed your expertise. And you have it. Remember your employer is not running a charity.
Trap 2 : My H1B employer or some designated employee of my H1B company always takes me out for grocery and other leisure activities. And during my initial stay everything was paid by my H1B employer. Oh my God! My H1B employer is really a GOD.
Answer to Trap 2 : Your H1B employer wants you to remain dependent on them. Mostly your H1B employer will teach you all the etiquette of interview but they will NEVER teach you how to become independent and stand on your own.
Legally, your salary should begin as soon as you land in the USA but your H1B employer won't pay you a dime instead they will take care of your grocery and phone cost (which runs around $500 most a month) or pay you stipend of approximately $500-$1000 a month. Which one would you prefer : A legal salary of approximately $3000-$4000 a month or $500 a month during bench period?
Trap 3 : Within one month of my arrival in the USA, my H1B employer purchased a cell phone for me and also bought a brand new laptop. Oh! I am so thankful to them. Not a single employer in India took so much care about me. My employer is great !
This is the biggest trap used (successfully) by many H1B employers. So please read it thoroughly.
Mostly you have to give this phone and laptop back to the employer when you leave the company to work for someone else.
Don't you ever think that your employer is doing a favor to you? You are just a cash cow for them and the price of the cell phone, monthly cell phone service charge, and the cost of the laptop are almost nothing with respect to what you are going to earn for them.
Sometime it is a company policy to give each employee a cell phone and a laptop. It is nothing new. You are a cash cow for your H1B employer anyway.
Once you start feeling that your employer is great and really trustworthy and always willing to help. You (H1B employee) will develop a feeling of giving it back (non-professional mentality) and kind of develop a feeling "Oh my God ! My employer did so much to me , so I will never leave this company".. WRONG WRONG ..I would love to become CA$H COW for this company forever.. Absolutely wrong ! This is a materialistic world; please don't live in the imaginary world.
Trap 4: I just got placed by my H1B employer at the client side; my sad days are over. Now the real fun will start. I don't have anything to worry.
You are completely mistaken here. If a client wants to hire you , your H1B employer will create so many non-sense hurdles for you that you can not even imagine! Make sure that at the beginning of any new work at client side you are not asked to sign anything which will hurt or haunt you in future.
Such as you cannot work for that client for 2 years even after you terminate your job with that Desi Employer etc.
Read the sample employment agreement.
Trap 5 : We are considering filing a Green Card for you, and all the cost will be borne by us. You don't have to worry about your Green Card costs. We will never give you a pink sleep (lay off). If you are with an American Employer , they will lay off right away during difficult circumstances and you will be out of status right away. We value you and your work and we are offering you the best deal by sponsoring your green Card
Read the Good Characteristics of Employer . If your employer has any or at least 80% of it, do file with them, but if your employer has not any characteristics, then one or more of the following will happen to you in future.
Your salary raise will be minimal while your Green Card is under progress.
If you terminate your employment, your Green Card process with the current H1B employer may be terminated.
If you terminate your employment with your Green Card sponsoring employer, this employer may ask you to payback all the legal fees (they will get such thing in writing that you will pay them back) occurred in initiating your employment based Green Card processing.
Once your Green Card reaches the final stage, your employer will make your life miserable. Indirectly, your sponsoring employer knows that you (the employee) are going to leave them anyway so this sponsoring employer goes an extra mileage to extract the last drop of blood out of your body !
If you come to the bench (even though you worked for them for many years), your salary will be minimal to none; and if you ask for the salary they will outright deny you. They may tell you that find another employer, but you are almost there in getting a green card.
Remember sometime or most of the time when you change your Green Card sponsoring employer and join someone else, you may need to re-start your Green Card process with this new Green Card sponsoring employer.
Do you have a more traps to share with us. Please share with us in the comments section below or email at feedback@www.visaxp.com.
See Also